Imagine having all of these webservices and analytics integrated and in one place. One tool. One log-in.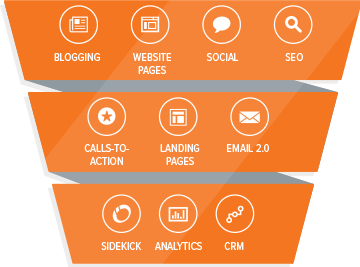 Have we caught your attention yet?
We're a HubSpot Partner, and one of more than 12,000 customers who are using the HubSpot Content Optimization System on their website.

Your business will benefit by using HubWerks + Hubspot's proven principles of Inbound Marketing. Add us to your marketing program and together we're a powerful team.
Here's what we'd love to do for you:
Design or revise your site for People first, then for Search Engines second.
We incorporate the "Buyers Journey" approach into all our client's websites. Whether a visitor is educating themselves or ready to buy your product, your website must meet them where they are at and guide them through the process until they have enough information to make a decision to use your product or service.
The days of stuffing keywords and meta tags to enhance your SEO won't help much if the content isn't relevant and helpful in solving a users problems or questions.
Don't ever make a visitor ask, "so, what do I do now...?"...make it easy for them to take that next step.
We will listen to gain a deep understanding of your business, and your goals
If we don't have a deep understanding of your business how can we build you a revenue generating web tool? Better yet we want to identify who your ideal buyer is for all your products or services. Whether it's over coffee or beers our strategic web business development process will determine who makes you money and why.
"HubWerks has been instrumental in helping Hoptocopter™ Films redefine our customer flow. The technology they use is incredibly powerful, but the real power of HubWerks is in their people. Their business experience and marketing insight has played a pertinent role in assuring we effectively communicate to our customer base."
SETH / OWNER + DIRECTOR + DP + EDITOR Hoptocopter Films
[fa icon="quote-right"]
We build Responsive Web Designs that look as good on a phone and tablet as they do on a desktop
With over 50% of search now being done on mobile devices, your site, content and conversion tools need to adjust for a quality user experience. All of our sites work they way they should on all platforms, because they are built with the goal of render responsively on mobile phones and pads, as well as on desktop and laptop computers.
We keep an eye on the goal of converting leads to customers and ROI
You spend a lot on money in many different marketing mediums. Have you ever asked yourself "I want to know exactly what marketing efforts is making us money and why?". We answer that question with proven data and provide a plan for you to make more money. This is done with our expertise and the HubSpot software.
"The Hubwerks guys have worked tirelessly not only to get my company found, but to convert viewers to users. My confidence in Hubwerks' ability to drive traffic through inbound conversion, blogging, SEO, and PPC/PPV has allowed me the ability to focus on running my business, not my website."
ERIC P. / FOUNDER + CEO FundSpot
[fa icon="quote-right"]